Crucial Tips for New Mykonos Visitors to Adapt in its Unique Atmosphere
Indeed, many label Mykonos as a nocturnal paradise, a riotous haven for those in pursuit of vibrant festivities and lively soirées. It's incontestably Greece's own rendition of Ibiza, beguiling visitors with pulsating rhythms and effervescent nightclubs that entertain until dawn, with sandy landscapes scattered with sun-kissed individuals savoring the pristine beaches.
However, Mykonos reveals itself to be more than just a stage for nocturnal revelry. It lures you subtly with its authentic Cycladic charm, the enchanting labyrinth of cobblestone streets in its capital, breathtaking panoramas, exquisite local cuisine, and the allure of rural escapades – to mention but a few of its manifold offerings. This guide, irrespective of whether you're a newcomer or a seasoned traveller, aims to serve up a comprehensive taste of Mykonos, inviting you to savor its diverse allure.
Choosing the right beaches to visit in Mykonos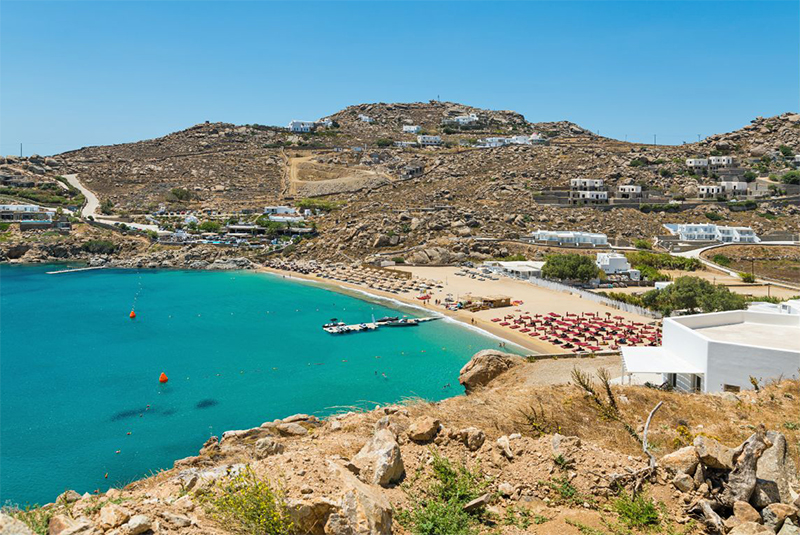 As you set foot on the Mykonos shoreline, you'll soon discover an incredible variety of 25 unique beaches. From expansive, ivory-sand beaches teeming with celebrities and sun-seekers to the intimate coves and tiny islands embraced by the crystal-clear Aegean Sea, Mykonos offers a palette of choices.
It's up to you whether you're looking to dive into the lively party scene or you're after a more serene getaway. For those inclined towards the former, Super Paradise, Paradise, Psarou, and Paraga beaches (often featuring chic, namesake beach clubs) are excellent choices. Here you can indulge in a riveting evening filled with signature cocktails, pulsating music from internationally acclaimed DJs, and an electrifying atmosphere.
For those inclined to water sports, Kalafatis, Agios Ioannis, and Platis Gialos won't disappoint. The same can be said for Elia beach, Mykonos' longest stretch of sugar-soft sand, making it an ideal spot for families.
If you yearn for more secluded, nature-rich beaches away from the bustling crowds, then the north coast is your haven. Consider Agios Sostis, Fokos, Myrsini, and Panormos beaches. Let's not overlook Ornos, nestled on Mykonos' southwestern side. This charming locale delights visitors with a myriad of seaside tavernas serving mouth-watering fresh fish dishes, a glorious beach, and a quaint village adjacent to a dreamy bay.
Best places to experience Mykonos' Nightlife
Mykonos is famously known as an island that never hits the snooze button, particularly in the bustling summer months. It offers an impressive array of nightlife choices to cater to every taste, ranging from LGBTQ+ friendly spaces to beach clubs that have firmly positioned Mykonos as a premier party destination in the Mediterranean. Beach clubs such as Paradise Club, Super Paradise Club, and Cavo Paradiso are well worth a visit, renowned for hosting unforgettable parties that kick-off as the sun dips below the horizon and continue until the break of dawn.
However, if you're looking for a more laid-back evening, the bars in Mykonos Town (also known as Chora), and the picturesque beachfront region of Little Venice are ideal. Whether you're in the mood for affordable shots or fancy champagne cocktails, these establishments, including the well-known Scandinavian Bar and Jackie O, among others, have you covered. They also host a variety of entertainment such as drag queen shows and cabaret performances.
Exploring the party hotspots in Mykonos
The culinary landscape of Mykonos is as compelling as its vibrant party scene. Whether it's upscale fusion cuisine, traditional tavernas, gourmet restaurants, international dishes, or local cheeses and meats that leave you salivating, Mykonos can charm your palate in countless ways.
The capital city boasts the richest array of dining choices, with prominent spots such as M-Eating, Niko's Taverna, N'Ammos, and Remezzo, among others.  However, the culinary delights are not confined to the city center. Ornos Bay, Platis Gialos, Little Venice, and other picturesque locations along the shoreline host exceptional restaurants. These spots not only tantalize your taste buds but also offer breathtaking views of the Aegean Sea glittering under a star-filled sky.
Where to savor culinary delights in Mykonos
The gastronomic offerings in Mykonos are astounding and nearly as famed as its vibrant nightlife. From high-end fusion cuisine and cozy traditional tavernas to fine dining establishments, international delicacies, and tantalizing local cheeses and meats, Mykonos has a unique ability to captivate your culinary senses time and again.
A profusion of dining options can be found in the bustling capital, with standout establishments like M-Eating, N'Ammos, Niko's Taverna,  and Remezzo, among others. Additionally, Ornos Bay, Platis Gialos, the enchanting Little Venice, and other coastal locales also boast exceptional restaurants. These places not only cater to your gastronomic cravings but also offer stunning views of the Aegean Sea under a starry canopy.
Choosing your accommodation in Mykonos
Where to lodge in Mykonos greatly depends on the kind of experience you're seeking and, naturally, your budget. Indeed, the possibilities are as expansive as the sky in this regard. Mykonos welcomes its distinguished guests with beachfront hotels and opulent resorts, as well as refined villas, exclusive estates, and trendy combo units. All of these accommodations feature white interiors, infinity pools, charming Cycladic architecture, beamed ceilings, private terraces and balconies offering Mediterranean Sea views, and other hallmarks of a luxurious Greek island residence. Most of these splendid properties are concentrated along the southern coast and in Chora. However, the Luxury YaaHolidays portfolio encompasses over 200 luxury villas across Mykonos, catering to a range of budgets. If you require assistance in selecting the perfect villa that meets your specific needs, don't hesitate to reach out to our guest support team.
If you're working with a more modest budget, fear not. There are still plenty of excellent accommodation options available, including budget-friendly hostels and modern hotels near Mykonos Town, some of which even boast lovely gardens and pleasant seascapes.
Choosing the best time to visit Mykonos
Mykonos truly comes alive and reveals its vibrant hues from late April through to mid-October. The peak season extends from June to mid-September, when the island is brimming with tourists, parties, and events. Naturally, this period also corresponds with high season rates for everything. For a more relaxed visit that's easier on the wallet, consider the shoulder season, which falls between April and early June, as well as late September to late October. Alternatively, you can opt to visit Mykonos in the winter months. You'll enjoy an unprecedented level of privacy, have the beaches to yourself, and find plenty of affordable accommodation options along with some enjoyable entertainment. For a more comprehensive overview of what to expect during a Mykonos getaway at different times of the year, refer to this detailed guide.
Exploring Mykonos: activities and attractions
There's an abundance of activities to enjoy in Mykonos beyond just lounging on the beach:
Embark on a bike, moped, or Jeep journey through the countryside, or even better, with your private chauffeur. Exploring the traditional villages dotting the island's hilly interior offers a delightful contrast to the busy coastline.
Spend an afternoon appreciating the quirky artwork at Mykonos art galleries like Art and Soul and Rarity Gallery.
Take a leisurely walk through the narrow alleys of Mykonos Town, embellished with vibrant bougainvillea.
Discover the local history at the Aegean Maritime Museum and the Archaeological Museum of Mykonos.
Enjoy a cocktail at a café or bar in Little Venice, with its pristine seascapes adding to the ambiance.
Visit famous landmarks such as the impressive Tourliani Monastery, the picturesque Windmills, and the scenic Armenistis Lighthouse.
Participate in water sports or dive into the clear waters revealing a vibrant aquatic world of caves, walls, wrecks, and schools of fish. Beaches like Kalafatis, Lia, and Paradise have plenty of facilities for such activities.
Immerse yourself in the lively shopping scene at Matoyianni Street in Chora.
Watch the sunset from unique spots like Agios Ioannis beach, Kato Mili, Little Venice, or even from your villa's garden.
Make your way through the charming, cobblestoned streets of the town, lined with small chapels, boutiques, restaurants, and white houses with brightly colored doors and shutters.
Experience an open-air cinema at Cine Manto, which also offers delectable food and snacks.
Take a sailing tour to the historic Delos Island, recognized as a UNESCO World Heritage Site.
Join in on an evening or late-night beach party where you can mingle with celebrities and Hollywood stars in the VIP sections.
In Summary
Whether Mykonos is a new destination on your travel list or a beloved spot you return to time and again, its charm never fails to beguile and captivate. Surrender to the island's allure, let it guide you on a journey filled with unforgettable experiences.