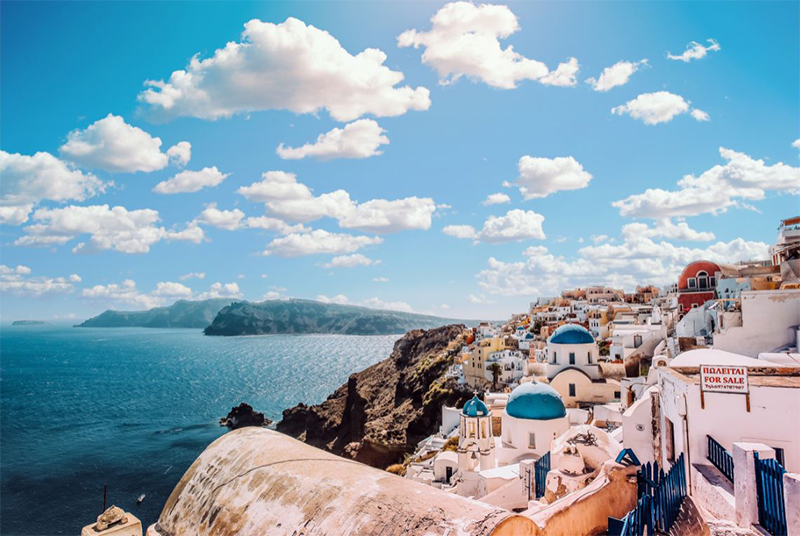 7 reasons why Mykonos is a celebrity favorite
Demystifying Mykonos: Celebrity Magnet and Hidden Gem
Once merely an obscure island inhabited by humble fishermen, Mykonos has evolved into an elite playground frequented by Hollywood luminaries, celebrated athletes, international royalty, and other global glitterati. Yet this ascension to the apex of glamour wasn't always on the cards. The tide turned for this modest Cycladic island when a cadre of French archaeologists stumbled upon its neighbouring island, Delos, in the 19th century.
Struck by the untouched beauty they encountered in Mykonos, the archaeologists couldn't help but spread word of this enticing oasis. The allure didn't take long to catch the attention of Athenian elites, who began to see the island as a sanctuary for unabashed indulgence, far removed from societal conventions.
This burgeoning reputation gained further traction in 1954 when King Paul undertook a Greek island cruise, gracing Mykonos with a royal visit. The tranquil landscapes and captivating scenery left an indelible impression on the nobles, who couldn't resist singing praises to their affluent friends. The seeds of intrigue had been sown, and Mykonos began to witness an influx of discerning travelers, drawn from the creme-de-la-creme of the Mediterranean and beyond.
But what has kept these distinguished visitors returning year after year? What makes Mykonos a requisite pin on every world traveler's map? Let's delve into some compelling reasons:
1. Coveted Seclusion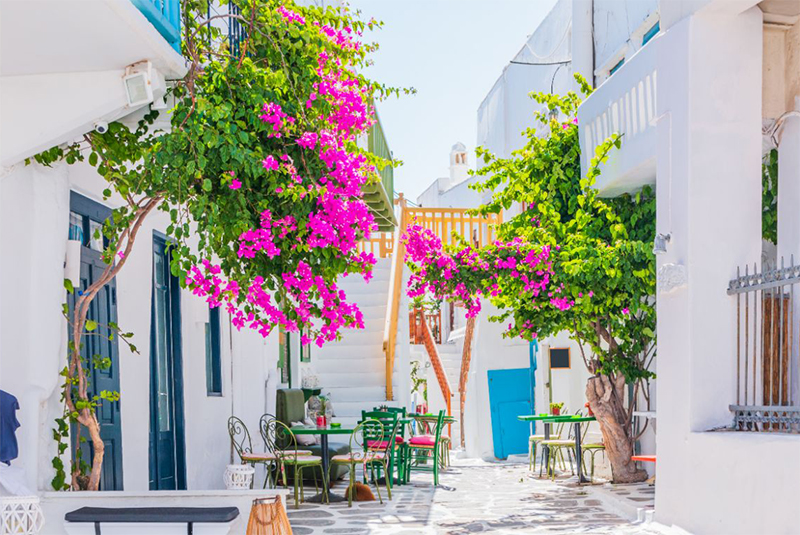 High-profile figures often seek an escape from the public eye when choosing their holiday destinations. Mykonos, with its prevalence of fellow celebrities and affluent travelers, offers a certain degree of anonymity, allowing the well-known to unwind without the perpetual fear of paparazzi intrusion. While the occasional photograph might make its way to the media, it's a far cry from the relentless pursuit they face in their everyday lives.
Moreover, Mykonos excels in providing private accommodation that caters to this craving for solitude. Luxurious villas and mansions, strategically located on secluded hilltops, offer an abundance of services and amenities, ensuring a serene, undisturbed vacation.
2. Celebrations like no other
Even the most privileged among us appreciate a good party to let their hair down. Mykonos, with its unrivaled party scene, is uniquely positioned to cater to this need. The island boasts some of the finest clubs and bars in Greece and arguably, the entire Mediterranean, each with a distinctive atmosphere and picturesque setting. Regular appearances by international DJs ensure that the exclusive parties run from dusk till dawn, providing guests with a night to remember.
3. Europe's Finest Beaches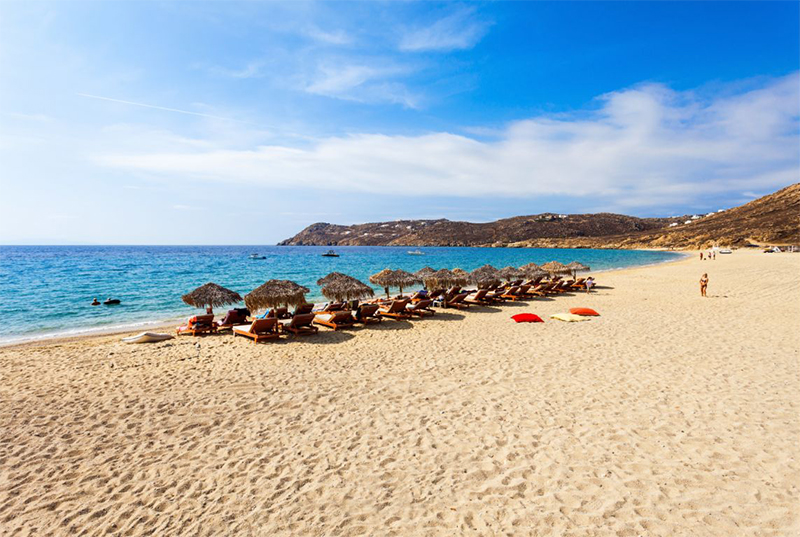 Mykonos, with over 30 diverse beaches of fine white sand and turquoise waters, offers an exceptional seaside experience to cater to every preference. Whether one seeks the tranquility of isolated coves or the dynamic buzz of vibrant shores with round-the-clock entertainment, Mykonos has it all. Its beaches are also catered to various niches – water sports enthusiasts, naturists, LGBTQ+ friendly spots, family-oriented locations, luxurious sunbathing zones, and night-long parties.
Beaches such as Super Paradise, Paradise, Paraga, Agia Anna, Ornos, Psarrou, Agios Ioannis, Elia, Agriari, and Lia are especially favoured by the celebrities. Moreover, the beaches along the southern coast are particularly popular for their lively parties, upscale restaurants, and renowned bars.
Superior Living & Accommodation
Mykonos has evolved to accommodate the crème de la crème of society, presenting an enticing mix of chic aesthetics, refined elegance, and laid-back luxury, infused with traditional Cycladic elements. From five-star resorts to opulent villas strategically located across the island, these accommodations meticulously cater to the most discerning of guests. This perfect blend of subtle opulence and world-class service is what beckons hundreds of celebrities each year, ensuring they don't need to compromise on sophistication during their stay. Mykonos is, in essence, a slice of paradise on earth.
5. Exceptional Concierge Services
The high concentration of A-list visitors has led to the development of a superlative level of concierge services in Mykonos. Whether the request is simple or extraordinary, Mykonos is committed to delivering. The spectrum of services offered ranges from luxury transportation, private chefs, and helicopter rides to private shopping experiences, personal training sessions, VIP club access, and dedicated staff such as entertainers, butlers, and security personnel. The experienced professionals go above and beyond to accommodate the high demands of their celebrity clientele, including organizing private parties or special events.
6. Elite Shopping Experience
The desire for shopping is universal, and celebrities are no exception. But their discerning tastes often demand premium quality and exclusive designs. In this respect, Mykonos rivals international luxury shopping destinations like London, New York, and St Tropez. With an array of designer boutiques that operate late into the night, the island offers countless ways to indulge in retail therapy. Be it high-end fashion, exquisite jewelry, or unique souvenirs, Mykonos caters to every extravagant whim.
7. Pleasant Climate
What's not to love about an island that boasts up to eleven months of sunshine each year? Mykonos enjoys a temperate climate, with mild winters that are much warmer than most European destinations. From April onwards, you can bask in sun-soaked skies and gentle temperatures. Even in October, the weather remains as inviting as the summer months, making Mykonos an attractive destination throughout the year.
8. Link to Ancient Civilizations
Among the well-heeled and famous, there are many who exhibit a genuine interest in ancient history. For these individuals, Mykonos offers a glimpse into the past, with its impressive ruins, museums, and sites brimming with legends and myths. Its proximity to Delos island, the spiritual hub of ancient Greece, provides a window into a civilization that has profoundly shaped the world.
Is Mykonos Exclusive to the Affluent?
Absolutely not. While Mykonos is undoubtedly a pricier option for a summer vacation, it offers a range of options to suit different budgets. You won't have to compromise on luxury, as affordable premium luxury Mykonos villas is available through services like Luxury YaaHolidays. Regardless of your budget, Mykonos extends a warm welcome and promises an enriching and unforgettable experience.